Anchor Liberty Ale - 5.9%
A light but tasty ale beer, and imprinted with the American culture it proudly represents. To be enjoyed on cool summer evenings.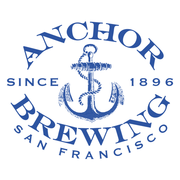 Anchor Brewing
This beer is full of history as it is closely linked to the American Revolution. First brewed in 1975 to commemorate the 200th anniversary of the Midnight Ride, Paul Revere's heroic horse race that helped win the American Revolution.
This Liberty Ale is composed of malted barley, fresh hops, pure water and yeast. High fermentation type, it offers a coppery colour and white foam. On notes of caramel and fruit, we find the powerful aromas of hops and herbs. Its bitterness is pronounced as cascade hops are a characteristic feature. It is thick in the mouth all the way to the end, dry and frank.
The Anchor Brewery

Established since 1896 in San Francisco, the Anchor Brewery has always played a significant role in California's history as a leader in the microbrewery movement.
Anchor is recognized as one of the most traditional and beautiful breweries in the world and all of its beers are still brewed by hand. It is one of the few breweries to follow traditional brewing methods, using only malted barley and high-fermentation yeast.
With this product, we recommend :
Customers who bought this product also bought :