"Le Basque Ardent" - Hot Espelette Chilli Sauce
A true taste of the Basque country!
You like this product ? You may like this one too...
BiPiA Espelette red pepper assortment
BiPiA
3 specialities
Price : 21.00 €
Price per kilo: 95.45 €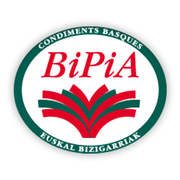 BiPiA
La Basque Ardent will bring a very original note to your dishes, whether they are in sauces, on grills or on your pizzas. Prepared with Espelette chilli pepper, this sauce is not as strong as its neighbour the tabasco, but much more tasty and strong in taste.
Some ideas of use 
Pour a few drops on your meat or fish, or in a vinaigrette for a surprising seasoning.
This sauce will bring a nice touch of red colour and pepper to your pasta and other starchy foods.
In a guacamole it will give a lot of flavour and added to a cocktail it will pleasantly surprise your guests.

A few drops will be enough to set your audience on fire, to be handled with care!  
Espelette peppers, water, vinegar, salt of Bayonne, xanthan.
With this product, we recommend :
"Le Basque Ardent" - Hot Espelette Chilli Sauce is also available in
Chili pepper
.
Customers who bought this product also bought :