Organic coriander essential oil crystals
An aphrodisiac which aids digestion and toning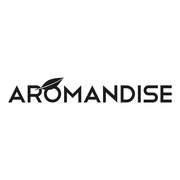 Essential oils
Aromandise
.
The benefits of essential oils in prebiotic agave pulp. A multitude of simple, everyday uses that will please your sense of smell and your taste buds, and be good for your health!
100% organic
Prebiotic benefits
Slimming aid, helps digestion, stress-relief, vitality, etc.
Salt-free, sugar-free, 0 calories, fat-free
Made in France.
Easy to use:
Sprinkle the Cristaux d'huiles essentielles¨ (Essential oil crystals) directly on to your preparations, as you would spices or seasonings. For hot dishes, prefer the last stages of cooking, or directly on to the plate before serving.
The crystals can be also prepared in the form of vinegars, flavoured oils and syrups. A brilliant idea to aromatize water : directly in your glass or in water to cool in the fridge.
Powerful and economical: just a pinch between your thumb and index finger per person is enough, depending on what you are cooking, meaning there are roughly 500 individual doses per jar!
"Healthy and delicious: Cristaux d'huiles essentielles¨ (Essential oil crystals) are crystallised blue agave pulp steeped in essential oils of the finest food-grade quality. The result is 100% organic, natural and plant-based, a concentration of goodness for your health.
Essential oils have recognised health benefits. The polysaccharides in blue agave are prebiotics in their natural state, which encourage the development of intestinal flora and help regulate digestion.
The pleasure involved in these delicious flavours can replace the often excessive use of sugar and salt, helping you keep in shape and stay healthy."
Blue agave powder*, essential coriander oil* (Coriandrum sativum, gra'ne), coriander leaves*. *Organic products
With this product, we recommend :
Customers who bought this product also bought :