A delicious goose foie gras!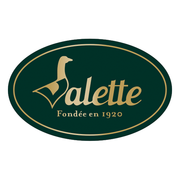 Foies gras
Valette
The goose foie gras: For some gourmets, it could not be compared. Do you appreciate delicate, smooth and fine foie gras ? You have to taste this one!
The block of foie gras is finely emulsified and seasoned. Perfect with a salad from Périgord. You also can spread it on toasts for the aperitif.
Recommendations:
Take the foie gras out of the refrigerator 15 to 20 minutes before serving. Slice it using a non-serrated knife which has been dipped in hot water. Prefer a lyre to get perfect slices.
Serving suggestion Serve with fresh or toasted country-bread, you also can taste it with gingerbread, this is delicious as an aperitif or as a starter.
Conditions and length of preservation: Until 4 years at room temperature (between 10 and 15°C).
Goose foie gras, water, Port wine, salt, pepper, sugar
With this product, we recommend :
Customers who bought this product also bought :