BienManger bag
BienManger.com
Its practical and attractive design makes this the ideal shopping bag!
This bag will have the chance to see the finest roast from the butcher, the finest vegetables premiere of the neighborhood and the most beautiful flowers ...

It's a bag for foodies, for foodies, for lovers of good products! A true sign for all envious look him in the street: you can then say "I like good products, I like the new saveurs..j'aime BienManger.com in all!"

Dimensions: 36X27cm + bellows 20cm
Composition :
Polypropylene 160g/m². Polypropylene handles: 25 x 350mm.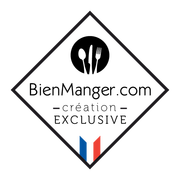 BienManger.com
With this product, we recommend :
Customers who bought this product also bought :
Reviews about : BienManger bag
There is no reviews about the product yet BienManger bag
Be the first to leave a review
Leave a review
Please describe your experience with this product : taste, texture, how you used it and maybe your favorite recipe or advice.
You must login or register to leave your opinion.