Bière des Ours - Belgian Honey Ale - 8.5%
With a well-rounded, sweet flavour thanks to the addition of honey, this is a truly excellent Belgian beer!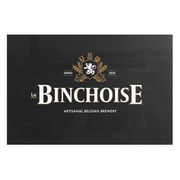 Brasserie La Binchoise
The story of the La Binchoise brewery dates back to 1836. Its beers are artisan-produced, brewed at top fermentation, and stored in high-quality bottles.
What makes this beer truly original is the way the honey is added to the mixture before its first fermentation. The honey adds sweetness and flavour but also an important quantity of alcohol due to the fermentable sugars it contains. Bière des Ours is perfect as an aperitive, and as an accompaniment to a wide variety of dishes.
With this product, we recommend :
Customers who bought this product also bought :