Himalayan Pink Salt in Glass Mill
You like this product ? You may like this one too...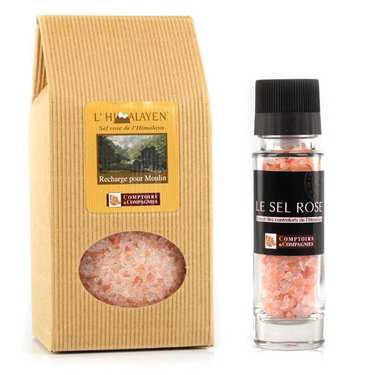 This large glass grinder will be your new ally in the kitchen, for always delivering the right dose of this tasty salt rich in trace elements.
This pink Himalayan salt is 200 million years old. The Himalayas are the result of the collision of the Indo-Australian and Eurasian plates, which caused the disappearance of the former Thetys ocean. When its water slowly evaporated, salt crystals were deposited on the slopes of the emerging mountains.
This pink salt is rich in minerals and trace elements (potassium, sodium, magnesium, calcium, iron, and copper). This is a highly pure 'fossil' salt, which Himalayan tribes used to carry from the Himalayan mines down to the valleys on the back of their yaks.
Composition :
Himalayan pink salt
With this product, we recommend :
Customers who bought this product also bought :
Reviews about : Himalayan Pink Salt in Glass Mill
There is no reviews about the product yet Himalayan Pink Salt in Glass Mill
Be the first to leave a review
Leave a review
Please describe your experience with this product : taste, texture, how you used it and maybe your favorite recipe or advice.
You must login or register to leave your opinion.