Fleur de sel - French Sea Salt - 125g
The essential to have in her kitchen: the thin and crispy Camargue fleur de sel to meet with flavor your grilled meat and fish.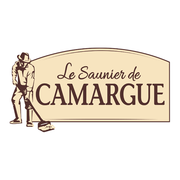 Les Saunier de Camargue
Salt flower:
Its thin and crunchy texture will highlight all your dishes. It can be used directly in the plate or at the end of the cooking time. It is perfect for grills, fishes and salads or even raw vegetables.
Soft and gentle, the salt flower from Canargue has a great aromatic power and offers surprising tastes.
Camargue: Earth of Salt:
The brand"Le Saunier de Camargue" picks its salt near the charming walled city of Aigues – Mortes salt marsh. It is partially situated on the Natural reserve of Camargue, on the West of the Small Rhône.
The salt marsh extends over 18 kilometers from North to South and 13 kilometers from East to West.
Since antiquity, salt has been cropped in natural way. In this place, wildlife, flora and salt harmoniously live together.
The Saunier's work:
Since antiquity, the saunier follows the nature 's work and water waves to create the" Saunier of Camargue" a salt which is naturally white and close to its first shape.
This authentic salt is full of benefits and will bring you the best of the nature. Salts are in conformity with the quality food salt charter which guarantees its qualities and its safety.
Recipe idea: Salad of mango, spicy chicken and lamb's lettuce
For 6 persons
Preparation: 10 minutes
Cooking: 5 minutes
Ingredients:
2 ripes mangoes
2 breasts of chicken or turkey
1 bag of Lamb's lettuce
1 red onion
Juice of half a lime
2 soup spoons of sesame oil or olive
2 soup spoons of tomato concentrated
2 coffee spoons of Espelette chili
White pepper
2 coffee spoons of flower salt"Saunier of Camargue"
3 soup spoons of olive oil
Preparation:
Cut chicken breasts in two if they are too thick
Salt and pepper each sides
Coat on each side of the breasts concentrated tomato and sprinkle with Espelette chili (you can use some curry instead)
Make warm a soup spoon of olive oil in a frying pan, seize your cutlets and make them gild on each side
Cut them in stripes
Peel mangoes and cut them in roughly dice. Then, slice thinly the red onion
In a salad bowl mix mango, the sliced thinly onion, the olive oil and the green lemon juice. Then, leave about ten minutes in cool.
During this time, prepare the lamb's lettuce, remove the small bases of every small heart of lamb's lettuce. Distribute in 6 glasses: First the mango, then on top arrange the strips of spicy chicken and then by above the lamb's lettuce.
For ending, sprinkling with Flower of salt.
With this product, we recommend :
Customers who bought this product also bought :