A powerful and spicy taste and a thick crust thanks to a long maturation period.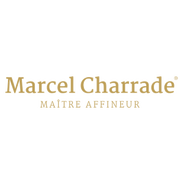 Marcel Charrade
Produced by the Neuvéglise dairy cooperative in the Cantal, this cheese has been selected and matured by Marcel Charrade, a maturer specialising in cheeses from the Massif Central.
Old Cantal
Matured for more than 8 months, old Cantal delivers a powerful taste in the mouth, with spicy and full-bodied notes. Its rind is brown and thick. Its paste becomes dry and crumbly, brown and dark in colour.
It will go well with a fruity red wine, such as a Gaillac or a Marcillac.
Further maturing will first produce old Cantal.
Cantal, an AOC cheese from the Massif Central
Cantal is an uncooked pressed paste made from cow's milk in the form of an oven. For each ovenme of about 40 kilos, 400 litres of milk are needed. Since 1956 it has had an Appellation d'Origine Contrôlée (AOC) which guarantees its traditional method of production and its constant quality.
Its production area (7200 km²) is centred on the Cantal, the department from which it takes its name, but also extends to a few neighbouring communes in the Puy-de-Dôme, Aveyron, Corrèze and Haute-Loire. This extensive breeding ground offers its rich pasture resources and allows the cheese to be made with milk anchored in its terroir.
The fourme de Cantal has the cylindrical shape typical of Auvergne cheeses. Its paste, firm and uncooked, is pressed twice, with crushing of the curd between the two presses and salting in the mass.
The paste has an ivory colour when removed from the mould (young maturing), to gradually become dark yellow. Initially supple, it can be slightly crumbly for the most mature. The rind gradually thickens, going from a grey-white to golden, then brown. It can be strewn with ochre to brown buds.
Sometimes tart at the beginning of the maturing process, its taste intensifies until it becomes fruity and persistent.
Marcel Charrade, Auvergne cheese maturer
SAS Marcel Charrade selects the finest cheeses from the Massif Central from the Massif Central's farm producers and cooperatives and matures them in its 6 cellars in Neussargues (Cantal). The ants and other cheeses are pampered, caressed, rubbed and turned over for several months.
Specialising in Cantals, Salers, Laguiole, Fourme d'Ambert, Bleu d'Auvergne, farmhouse Saint-Nectaire and other Auvergne products, she offers them in pretty portions, ready to delight your taste buds.
Cow's milk, rennet, salt Milk from France
| Average nutrition facts | For 100g | |
| --- | --- | --- |
| Energy | 371 / 1553.3 | kcal / kJ |
| Total fat | 30.3 | g |
|   Saturated fat | 19 | g |
| Carbohydrate | 0.18 | g |
|   Sugar | 0 | g |
| Proteins | 24.7 | g |
| Salt | 2.1 | g |
With this product, we recommend :
Customers who bought this product also bought :