Scotch Haggis with Whisky
The combination of traditional haggis and whisky for a 100% Scottish taste!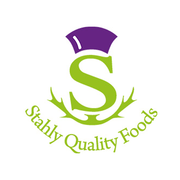 Stahly Quality Foods
Nothing would marry better with haggis than whisky ! Bringing together two key elements of Scottish tradition, you will be transported across the Channel with this unique dish.
But what is haggis? 
It is a sheep's stomach stuffed with the animal's giblets and garnished with oats, onions and spices.
However, don't stop at this description, which may seem a bit ragouting...
Although it may not seem very flattering, it is nonetheless very tasty!
Tasting advice 
To enjoy it, simply heat it gently in a pan or in the microwave and then accompany it with a homemade puree.
Lamb offal, beef suet, oatmeal, onions, water, whisky (1.52 %), salt, pepper.
With this product, we recommend :
Customers who bought this product also bought :