Organic salted energy bar - Honey, Pistachios & salt of Guérande
All the richness of Mediterranean fruits and French craftsmanship combined in an organic, raw and gluten-free energy bar!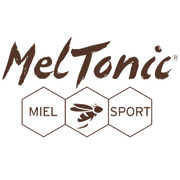 Meltonic
To be consumed during exercise, these bars are a trio of 3 natural ingredients with multiple benefits:
Pistachio and its natural magnesium content
Flower of salt and its natural sodium
Honey, energy that is easy to digest and assimilate!
Enough to meet all your challenges, both in training and in competition.
How to consume Tonic'Barres energy bars?
Their practical format makes them ideal to consume in small bites, with water or a Meltonic energy drink, so as not to clog the digestive system during exercise (and thus avoid the risk of stomach cramps or reflux).
They are suitable for all types of sport, both indoor and outdoor, intense and endurance.
The Tonic'Bars are energetic, organic, soft and melting!
Made in France with a base of fruit, almond, spelt, orange tree honey and royal jelly, these 25g bars are practical and easy to carry and will slip into any sportsman's pocket!
Inspired by Raw food, all the ingredients are organic and raw, in order to preserve all their nutritional qualities.
With their soft, melt-in-the-mouth texture, which does not stick to your fingers, they will provide you with all the carbohydrates and calories you need for your effort, with just as many nutritional virtues. Nothing better for a good energy boost during your workout or your run!
Allied well-being and gourmet of sportsmen and women, it is also suitable for everyday use, for a refreshing break during a long working day.
The advantages of honey and royal jelly for sportsmen and women
Honey, apart from its delicious taste, which is good during exercise, is quickly and completely assimilated by the body. In fact, we have been used to consuming it for thousands of years, and our digestive system digests it optimally!
What's more, it is a low glycemic index carbohydrate, lower than the glucose syrup usually consumed. It will provide you with energy in the medium and long term, avoiding the famous yo-yo effect of blood sugar and its rapid succession of euphoria and tiredness.
Royal jelly is also an excellent source of energy for sports. Naturally rich in vitamins B3, B5, trace elements and minerals, it is recognised as one of the most effective natural toners and energisers!
Meltonic, the first sports nutrition range with organic honey and royal jelly
Like many great adventures that begin, it is first of all a passion shared between Benoit, a beekeeper for 3 generations, and Vincent, a top level sportsman in Olympic sailing and trailer/runner, who is at the genesis of Meltonic.
Both fervent lovers of honey, sport and respect for nature, they created Meltonic and its range of nutritional products for sportsmen and women, based on honey and royal jelly. Of course, everything is produced organically.
Meltonic donates 1% of its turnover to the protection of bees by committing to the Terre d'Abeilles programme.
Date paste*, cream of rice*, almond powder*, cashew nuts*, spelt flakes* 8%, Acacia gum*, Maltodextrin*, Orange tree honey* 5%, Pistachio* 3%, Guérande flower of salt 2%, Sunflower oil*, Water, Royal jelly* 0.3%. * Ingredients from organic farming
With this product, we recommend :
Customers who bought this product also bought :