Basque Cake with black cherry
The traditional Basque home-made cake, not to be reserved on festive days as it is so tasty!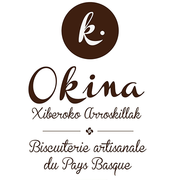 Okina La Biscuiterie Basque
Basque cake is a traditional Basque dessert, often eaten on Sundays and holidays. It is known as etxeko bixkotxa, the home-made biscuit, due to its attachment to the Basque house and the lady of the house, although it is now widely democratised in Basque pastry shops.
Made up of a dough made of flour and butter, to which sugar, eggs and almonds are added, it is traditionally filled with a black cherry filling, as here, or with pastry cream.
This Basque cake is made by hand according to the specifications of the Association for the Promotion of Quality Basque Cake Eguzkia. It is made according to a simple traditional recipe using top quality ingredients.
Tasting advice
In order to enjoy it fully, we recommend that you take it out of its packaging 30 minutes before consumption.
The Okina biscuit factory and its commitments
Okina promises to be an artisanal biscuit factory in the Basque Country. And rightly so.
Reflecting its location in the heart of the Basque Country, a land that has managed to keep its traditions and a preserved nature thanks to quality agriculture, Okina defends these values of quality and tradition in its production every day.
Here are its 3 commitments to quality:
Privileged local sourcing for its ingredients
Carefully selected raw materials
Recipes without colouring agents or preservatives
Dough (72%): wheat flour, sugar, butter, eggs, almond powder, rum, salt, baking powder (E450, E500). Black cherry jam (28%): cherries 70%, sugar, pectin, citric acid. Workshop using hazelnuts and milk.
With this product, we recommend :
Basque Cake with black cherry is also available in
Cherries
.
Customers who bought this product also bought :