Organic salted endurance bar with Cashew Nuts and Pistachios
Combining performance over the duration of the effort and gustatory pleasure, it is possible with this organic salted energy bar, which will bring you energy for your endurance efforts, with a good taste of aperitif with friends!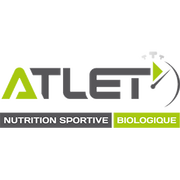 Atlet
With its low glycemic index, this organic energy bar with red fruits will quickly provide you with the energy you need during your long effort, whether it is on the trail, by bike, hiking, climbing, ... In addition to the fast energy, it keeps more than one trick in its bag with its composition :
Energy during the duration of the effort with the contributions of branched chain amino acids that will help reduce muscle fatigue (leucine, isoleucine and valine).
Spirulina and natural vitamin C to help you fight oxidative stress
Mineral-rich ingredients (magnesium, phosphorus, sodium) to compensate for sweat-related losses.
Its creamy and appetizing texture, as well as its good salty taste reminiscent of aperitifs with friends, will allow you to combine performance and pleasure!
A special composition for endurance
It is made with 100% organic ingredients, carefully selected to bring you the maximum in the duration of your effort:
Cashew nut and pistachio: Provides protein (BCAA) and lipids. Interesting for their energy intake and for long-lasting efforts.
Dates and Maltodextrin: Carbohydrate intake for energy and endurance management
Almond: Rich in BCAA and Omega 3, essential for muscle recovery.
Spirulina: Intake of minerals (potassium, iron, sodium) and vegetable proteins. Rich in vitamins B1, B2 and B3 which participate in muscle metabolism.
Salt: Helps to compensate for sodium loss (sweating) during exercise.
Minerals: Magnesium contribution (22% VNR/100g).
Directions for use
Before exercise: consume the bar as a snack 1 hour before a training session or a competition as an energy boost (in 1 dose).
During exercise: take small portions regularly (every 15 minutes for long efforts), alternating with the other ATLET bars or compote. Without forgetting to hydrate well with water.
After the effort: to be consumed as close as possible to the effort, within 30 minutes of the effort, in order to recharge your energy reserves after carbohydrate, sodium and lipid losses.
Mineral salts and vitamins intake (per 100g)
Magnesium: 82.5 mg (22% NRV)
Phosphorus: 140 mg (20% NRV)
Iron: 2.1 mg (15% NRV)
Vitamin E: 2.4 mg (20% NRV)
Vitamin C: 48 mg (60% NRV)
NRV = Nutritional Reference Values
Atlet, organic sports nutrition
A brand created by sportsmen, for sportsmen! And more particularly for sportsmen and women who are concerned about their performance, their health and the preservation of the planet, not forgetting the pleasure of eating!
In partnership with experts from the world of sports and nutrition, Atlet offers a complete range of certified organic energy products that not only meet the needs of sportsmen and women, but also all their expectations for healthy and tasty products. Particularly suitable for endurance sports, the product range can be used before, during or after exercise.
Date paste (1), cashew nut pieces (1) 14%, almond powder (1), rice flour (1), acacia gum (1), maltodextrin (1), sesame puree (1), pistachio pieces 3% (1), coconut syrup (1), salt 1.5%, water, spirulina (1), acerola extract (1) (1) Ingredients from organic farming
| Average nutrition facts | For 100g | |
| --- | --- | --- |
| Energy | 427 / 1787.76 | kcal / kJ |
| Total fat | 18.9 | g |
|   Saturated fat | 1.9 | g |
| Carbohydrate | 51.8 | g |
|   Sugar | 32.8 | g |
| Proteins | 9.1 | g |
| Salt | 0.12 | g |
| Fiber | 7.1 | g |
With this product, we recommend :
Organic salted endurance bar with Cashew Nuts and Pistachios is also available in
Gluten free
,
Pistachio
.
Customers who bought this product also bought :