Organic endurance bar with Red fruits
Combine performance over the duration of the effort and gustatory pleasure, it is possible with this organic energy bar with fruity flavors, which will quickly bring you energy.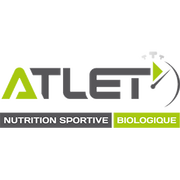 Atlet
With its low glycemic index, this organic energy bar with red fruits will quickly provide you with the energy you need during your long effort, whether it is on the trail, by bike, hiking, climbing, ...
In addition to the fast energy, it keeps more than one trick in its bag with its composition :
Its vitamin C naturally present in the ingredients is an excellent antioxidant.
Ginger provides anti-inflammatory benefits
Well endowed with minerals, it compensates for the loss of mineral salts during the effort.
Its creamy and appetizing texture, as well as its gustatory qualities, will allow you to combine performance and pleasure!
A special composition for endurance
It is made with 100% organic ingredients, carefully selected to bring you the maximum in the duration of your effort:
Pure Spirulina and flax protein: the combination of these quality proteins will promote muscle reconstruction.
Coconut oil rich in MCT (medium chain tryglyceride): which contributes to quickly bring energy to the cells.
Ginger: known for its anti-inflammatory effects.
Acerola: source of natural vitamin C and antioxidant.
Directions for use
Before exercise: consume the bar as a snack 1 hour before a training session or a competition as an energy boost (in 1 dose).
During exercise: take small portions regularly (every 15 minutes for long efforts), alternating with the other ATLET bars or compote. Don't forget to hydrate with water.
After the effort: to be consumed as close as possible to the effort, within 30 minutes of the effort, in order to recharge your energy reserves after carbohydrate, sodium and lipid losses.
Mineral salts and vitamins intake (per 100g)
Iron: 2.1 mg (15% NRV)
Vitamin B12: 4 mg (160% NRV)
Vitamin C: 48 mg (60% NRV)
NRV = Nutritional Reference Values
Atlet, organic sports nutrition
A brand created by sportsmen, for sportsmen! And more particularly for sportsmen and women who are concerned about their performance, their health and the preservation of the planet, not forgetting the pleasure of eating!
In partnership with experts from the world of sports and nutrition, Atlet offers a complete range of certified organic energy products that not only meet the needs of sportsmen and women, but also all their expectations for healthy and tasty products. Especially suitable for sports
Berry nuggets(1) 39.2% (concentrated apple puree(1), concentrated apple juice(1), berry juice(1)(blackberry juice(1), concentrated raspberry juice(1), concentrated blackcurrant juice(1), oat fibre(1), pectin, sunflower oil(1)), brown cane sugar(1), linseed protein(1), acacia gum(1), coconut syrup(1), sesame puree(1), maltodextrin(1), spirulina(1), coconut oil(1), water, natural raspberry flavour(1), acerola extract(1), lemon juice(1), salt, ginger powder(1). (1) Ingredients from Organic Farming
| Average nutrition facts | For 100g | |
| --- | --- | --- |
| Energy | 354 / 1482.13 | kcal / kJ |
| Total fat | 6.1 | g |
|   Saturated fat | 2.3 | g |
| Carbohydrate | 58.8 | g |
|   Sugar | 55 | g |
| Proteins | 7.3 | g |
| Salt | 0.11 | g |
| Fiber | 13.1 | g |
With this product, we recommend :
Customers who bought this product also bought :