Villa Massa Basilico 30% - Limoncello with basil
Two pillars of Mediterranean flavours are brought together in a liqueur, to make a perfect digestive, to be savoured chilled!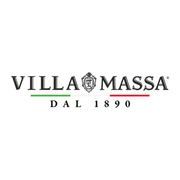 Villa Massa
Produced since 1891 according to an ancient family recipe, Limoncello Villa Massa is one of the most recognizable products of the Italian gastronomic and wine-growing tradition. Here it takes on an even more Mediterranean twist with basil, emblematic of Italian herbs!
Like the classic limoncello, this liqueur is the perfect accompaniment to a moment of conviviality, punctuating a good meal in joy and good humour. Thanks to its authentic flavour, the quality of its raw material and its refined style, Villa Massa you can enjoy it as is, or in elegant cocktails.
With its deep green colour with yellow reflections, it reveals a panoply of aromas evoking the different flavours of freshly harvested lemons, with a touch of basil, an icon of Mediterranean plants. The sweet notes and the subtle taste of alcohol are perfectly balanced.
Limoncello by Villa Massa
Made only from Ovale di Sorrento PGI lemons, with an authentic and family recipe, and with state-of-the-art production technology to respect all its aromas, this liqueur is a pillar of the Italian gastronomic tradition, widespread and appreciated worldwide as a Mediterranean masterpiece.
The Ovale di Sorrento PGI lemon is unique and only found on the Sorrento Peninsula. Bright yellow and with a thick rind with an intense fragrance, it gives a juice that is very acidic and rich in vitamin C. Its bark is rich and concentrated in essential oils.
Grown under the shelter of straw mats placed on a frame of chestnut stakes, the best lemons are selected and harvested by hand, without parasitic attacks or traces of pesticides. After being washed and dried, the lemons are mechanically peeled to obtain the fine peel, which is then soaked in alcohol to release all their aromas. The resulting infusion, of the lemon-yellow colour characteristic of limoncello, is then mixed with a syrup of water and sugar, without aromas or preservatives, to obtain this exquisite liqueur full of freshness and pep!
How to taste it?
The most common way to taste it is to enjoy it with family or friends, in an iced glass, after meals. Nothing better to end a meal between bon vivants!
To live the typically Italian experience of limoncello, try it dry and at a temperature of -7°C, in small iced shooter glasses, at the end of lunch or dinner. Its intense aroma will have a surprisingly refreshing effect, not to mention a little help to digestion with the infusion of lemon peels in alcohol!
Alcohol, sugar, lemon Alcohol 30%
With this product, we recommend :
Customers who bought this product also bought :