EGT Grand Reserve Serrano Ham (+20 months)
All the know-how of Spanish hams is just waiting for your knives for moments of delight shared with your loved ones!
This product is coming back soon!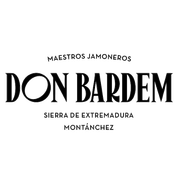 Don Bardem
Enjoy this whole Serrano Reserva ham in tasting, a pure product of Spanish gastronomy!
With more than 24 months of curing, under the control of the cellar masters of Don Bardem in Extremadura, the cradle of the Iberian cured meat tradition, this ham is already boned, rinded and defatted. All you have to do is cut it into large slices and enjoy the different flavours that the different parts of the leg reserve for you.
Already cut in half and vacuum-packed, you will be able to keep all the flavours of each half, by only opening one at a time. Once opened, you will only have to attack it where the slices are the widest and most beautiful!
Preservation and tasting advice
We advise you to take this boneless piece out of its vacuum pouch about 20 minutes before starting to slice it.
The origins of Serrano Ham
The name Serrano Ham comes from the "Sierra", the Spanish mountains, where the temperature and humidity conditions are perfect for ham making. But it is also a land full of professionals who put all their demands and care into the curing process of the hams.
Serrano ham and Iberian ham should not be confused with each other, as they are not from the same breed of animal. There are not only Iberian breeds on the peninsula! Serrano hams are made from white pigs, and Iberian hams are made from Iberian breeds, which do not have the same characteristics of growth and muscle composition. But the experience and know-how remain the same. The result after maturation, both in appearance and taste, will be different.
Don Bardem, Spanish gastronomic gems for demanding gourmets
Based in Extremadura, the cradle of the Iberian pig, Don Bardem cured meats are made from Iberian breed pigs, reared by the best breeders and producers in Spain, and highly appreciated by connoisseurs. From breeding to curing, Don Bardem is committed to strict quality control and guaranteed traceability of each of their products.
It is more particularly in Montánchez, a village at 990m above sea level in the Sierra, that Don Bardem hams and other Iberian cured meats are matured. The cold and dry climate in winter (a succession of low temperatures and falling humidity) and then harsh in summer (hot and airy) is the key to this village's reputation for curing hams and other Iberian meats for five centuries. The cold allows, with a soft salting, a perfect stabilization of the hams. The summer heat then causes the hams to sweat, which leads to an impregnation of fat in the muscle fibres. All this is done under the watchful eye of the cellar masters, who check each piece daily by eye, smell and touch.
Ham, shoulder, lomo or chorizo, always with a splendid maturation period of 12 to 36 months. Whole, in pieces or sliced, this is the best of Spanish cold meats that Don Bardem offers you to taste, in the way that suits you best! Gourmets and gourmets, you won't be able to resist hams with a sweet taste and intense and persistent aromas!
Ham, salt, preservative E-250 and E-252
With this product, we recommend :
Customers who bought this product also bought :