Iberian Montanchez Bellota Ham 75%
A top-quality Iberian ham, prepared from free-range pigs, ready to slice and enjoy!
In Stock
Home or office delivery only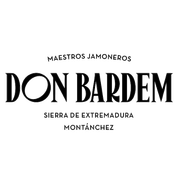 Don Bardem
Available here in generous vacuum-packed pieces, already boned, derinded and defatted, all you have to do is let your knife run through the tenderness of this ham to make beautiful slices to enjoy. Tapas, sandwiches and other delicacies await you!
Belotta Ham
A superior category of Iberian ham, this ham is cured from the hind legs of Iberian pigs (purebred mother, Iberian + Duroc father), fed solely from the feed of the dehesas, the pastures in which they roam freely. This diet is mainly made up of oak acorns, which they love, but also a wide variety of roots and grasses.
Iberian cold cuts
Iberian cured meats are renowned for their superior quality, made possible by the breed of Iberian pig and its well-developed intramuscular fat, which gives it its juicy side, as well as the natural feed from the pastures of the Spanish Dehesas, large expanses where the pigs frolic and feast on the abundance of oak acorns.
This quality is regulated in Spain by a Royal Decree of 2014 on hams, aimed at preserving the Iberian breed and informing the consumer, in which the cured meats "De Cebo De Campo", "De Bellota Ibérico" and "De Bellota 100% Ibérico" are included. This decree lays down rules on the presence of the Iberian breed in the herd and on the natural part of the pigs' diet.
Don Bardem, Spanish gastronomic jewels for demanding gourmets
Based in Extremadura, the cradle of the Iberian pig, Don Bardem cured meats are made from Iberian breed pigs, reared by the best breeders and producers in Spain, and highly appreciated by connoisseurs. From breeding to curing, Don Bardem is committed to strict quality control and guaranteed traceability of each of their products.
It is more particularly in Montánchez, a village at 990m above sea level in the Sierra, that Don Bardem hams and other Iberian cured meats are matured. The cold and dry climate in winter (a succession of low temperatures and falling humidity) and then harsh in summer (hot and airy) is the key to this village's reputation for curing hams and other Iberian meats for five centuries. The cold allows, with a soft salting, a perfect stabilization of the hams. The summer heat then causes the hams to sweat, which leads to an impregnation of fat in the muscle fibres. All this is done under the watchful eye of the cellar masters, who check each piece daily by eye, smell and touch.
Ham, shoulder, lomo or chorizo, always with a splendid maturation period of 12 to 36 months. Whole, in pieces or sliced, this is the best of Spanish cold meats that Don Bardem offers you to taste, in the way that suits you best! Gourmets and gourmets, you won't be able to resist hams with a sweet taste and intense and persistent aromas!
Bellota-grade Iberian pork ham, salt, preservatives E250 and E252
| Average nutrition facts | For 100g | |
| --- | --- | --- |
| Energy | 251 / 1050.89 | kcal / kJ |
| Total fat | 38.5 | g |
|   Saturated fat | 10.5 | g |
| Carbohydrate | 2.87 | g |
|   Sugar | 0.7 | g |
| Proteins | 0.5 | g |
| Salt | 3.96 | g |
With this product, we recommend :
Customers who bought this product also bought :