Suze 15% - the reference for bitter liqueurs
Known for generations for its original recipe and artisanal elaboration, rediscover the Suze in cocktails where it proves to be ideal!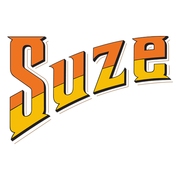 Suze
The aromatic richness of Suze is the result of a subtle balance between fresh gentian and numerous aromatic plant extracts.
With its characteristic bitterness, it can be savoured on the rocks, but also knows how to give a breath of fresh air to your cocktails!
Suze Tonic
The freshness of the Tonic and the delicate bitterness of the Suze combine for a Suze To', a great classic appreciated for its simplicity and inimitable taste.
4cl of Suze
8cl of Tonic
Ice cubes.
A wedge of lemon
In a large glass, pour Suze and complete with the tonic. Add the ice cubes and a wedge of yellow lemon. It's ready to go!
The Suze Spritz
3cl of Suze
12cl of Prosecco or another sparkling wine
1 dash of peach syrup
Pour the peach syrup and Suze, fill with ice cubes, then add the sparkling wine and a lemon wedge. Enjoy!
The Suze White Negroni
3cl of Suze
3cl of White Lillet
3cl of gin
1 pink grapefruit zest
In an old-fashioned glass, fill with ice cubes and pour the Suze. Complete with the Tonic, then the Lillet and gin. Decorate with a grapefruit zest.
With this product, we recommend :
Customers who bought this product also bought :