Fin de Partie - French Whisky Single Malt 46%
An aromatic, structured and gourmet whisky that celebrates the end of a good meal with friends or family, or the end of a good day.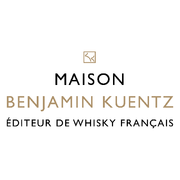 Maison Benjamin Kuentz
Fin de partie is more aromatic, structured and greedy than its little brother D'un Verre Printanier, while remaining elegant and airy.
Its freshness on the attack in the mouth is quickly replaced by an aromatic amplitude of cooked fruit, roasted cereals and spicy and peppery notes, which will fill the whole palate with vigour.
It is the ideal whisky to prolong a good moment.
It will be excellent in association with praline and chocolate desserts, but also with Iberian ham.
La Maison Benjamin Kuentz
Driven by the question "If the French had invented Whisky, what would have been the result?", Benjamin Kuentz is a French whisky publisher. He chose not to have his own distillery, but to work with several of them all over the country.
This way, he values the terroirs, the men and the know-how he met during his tour of France of the distilleries, with the desire to create completely different whiskies, specific to each one.
His recipes thus reflect these encounters, memories and desires to share, but also his personal taste, as he writes them himself, in partnership with the cellar masters of the partner distilleries.
A single line of conduct: to create true and contemporary whiskies, with elegance, balance and suppleness as their watchwords.
With this product, we recommend :
Customers who bought this product also bought :