UBY CUB Côtes de Gascogne PGI Rosé Wine - 5L Bag in Box
Rosé by UBY, a superb balance between richness and freshness, here in a practical bag-in-box format.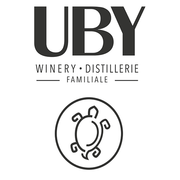 Domaine UBY
This wine from the South-West of France is full and round on the palate, revealing a beautiful balance between richness and freshness.
How to serve UBY Cub rosé?
Serve at 12°C. Ideal as an aperitif, with grilled meats, or with a dessert such as a strawberry tart!
Dare the bib!
Bienmanger.com offers you a selection of good little wines in bag-in-boxes, with packaging with nice looks and beautiful impressions, which will take nothing away from the magic of the wines. Or the charm of your tables.
Do you know about bibs?
The Bib (for Bag in Box) is a 3 or 5-litre vacuum-packed plastic bag, topped with a watertight press tap. The pouch retracts as the wine is pulled out, preventing any contact of the wine with the air, and therefore allows the wine to be stored better than in the bottle. And to be able to drink it at your own pace, according to your desires.
All this is contained in a box, usually made of cardboard, nicely decorated to make a strong impression on your table or buffet!
How long does a bib keep?
Bib wine can be kept between 6 and 12 weeks after opening.
Nothing to do with a cubi (cubitainer) then. Indeed, the cubi is a simple plastic jerrycan that does not allow you to keep the wine once it has been opened, the contact with the air being immediate and too important. For this reason, and contrary to the Bib in which the wine is never in contact with air, the cubi is in decline.
On the other hand, it is strongly advised to keep the opened bibs away from heat, in order to keep an optimal consumption time.
More practical than the bottle!
Bibs are perfect for long evenings with friends and family, served in a carafe or directly on the table, but also simply for everyday use.
The tap-press that decorates the bag-in-box allows you to draw wine as you wish, at any pace, at any time, but always in moderation!
The classic bib contains 3L, the equivalent of 4 bottles of 75cl.
The 5L one, a little more than 6 bottles and a half. At the rate of one glass per day, a 5L Bib lasts more than a month!
Bibs have the other advantage of weighing much less, being easy to take everywhere, and taking up much less space in the fridge and cellar than bottles.
Merlot, Cabernet Alcohol: 12%vol Contains sulfites.
With this product, we recommend :
UBY CUB Côtes de Gascogne PGI Rosé Wine - 5L Bag in Box is also available in
Bag-in-box wines
.
Customers who bought this product also bought :