Cabrou - farm cheese with raw goat's milk
A lactic cheese made from raw goat's milk, with a fresh and flowery taste.
This product is coming back soon!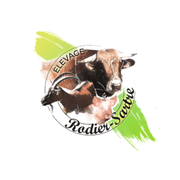 Elevage Rodier-Sartre
Once tasted, Cabrou de l'Aubrac will become an absolute must on your cheese platter! Of the same shape as the Pélardons, Rocamadour and Picodons from neighbouring territories, it stands out for the taste imparted by the rich and fat grass and wild flowers of Aubrac. Without forgetting the freshness of the recipe!
You can eat it as is, on a slice of farmhouse bread or rye, but also breaded with a fresh salad, or sliced in a hamburger, a gratin, or on a pizza.
We offer it to you in a creamy maturing, which reveals all its flavours, but if you let it age for a good week in the fridge or in the cellar, its dry maturing will release all the power of goat's milk!
The cheeses of the Rodier-Sartre Farm
It all starts with a Mother's Day gift, 3 alpine goats, which will remind Lucile of her childhood on the shores of Mont Lozère. Very quickly, the first cheeses arrive on the family table, and are a great success with the guests. The goat breeding then increases progressively, to market the cheeses on the markets and with the restaurants of the Lozerian Aubrac, where it becomes a must.
Fed with the rich and diversified fodder of the farm, the 90 goats of the farm are raised like the herds of Aubrac cows and black pigs, according to the principles of reasoned agriculture.
Moulded with a ladle and carefully matured by Lucile, Mathieu, Adrien and Guillaume, Cabrous de l'Aubrac cheeses will give you the unique taste of goat's milk produced in Aubrac!
Raw goat's milk, ferments, salt Milk from France
With this product, we recommend :
Customers who bought this product also bought :