Fresh Aubrac Aligot and baked golden sausage
The Aligot Saucisse, the Aubrac classic, is finally available ready to heat in individual trays. And it is made according to the rules of the art!
This product is coming back soon!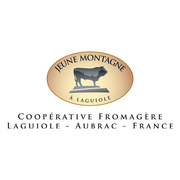 Coopérative Jeune Montagne
Pure product of the Aubrac tradition, Aligot-saucisse is a festive dish and the favourite meal to be tasted in the burons, these typical country inns of the plateau, former haunts of the cowherds in the summer pastures.
In this tray for 1 person ready to be reheated, the sausage is nicely browned in the oven, and the aligot inimitably flies to call for greediness. This cleverly proportioned mix of mashed potatoes, fresh cream and fresh tome from Aubrac is as delicious and subtle as ever. Gourmets will be delighted!
The Jeune Montagne Cheese Cooperative
Founded in 1960 at the instigation of a group of young producers, the Jeune Montagne cooperative perpetuates the production of Aubrac's raw milk cheese specialities. Respecting the traditions of this high-altitude plateau, located towards the south of the Massif Central, it allows fair and solidarity-based agriculture to develop serenely.
In this independent cooperative, the producer is at the heart of the activity and the quality of the products. The members are much more than providers of raw materials, they are at the base of the elaboration of the products. The quality of the raw and whole milk, and therefore the quality of the cheese, is strongly correlated with animal feed and, more broadly, with farming methods. Thus, they are constantly striving for excellence in their daily work and are committed to respecting precise and demanding specifications, which result in a fair remuneration for the sale of milk.
The Cooperative thus works daily to share the added value between milk producers, as well as protecting the Laguiole PDO and Aligot de l'Aubrac sectors.
Mashed potatoes (59%), Aubrac tomme (30%), lactoserum cream, salt.
With this product, we recommend :
Customers who bought this product also bought :
Coopérative Jeune Montagne
piece (about 300g)
5.00 €