Artichoke and truffle sauce
Without a doubt the most beautiful recipe for Petits Pots de la Maison Bigand!
This product is coming back soon!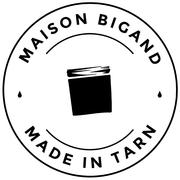 Maison Bigand
The artichokes give pride of place to winter truffle bits. The whole is delicately spiced with pink garlic, yellow lemon and wild pear. All in all, it is a delight in the mouth!
We would like to finish the pot with a spoon! If you're reasonable, you can spread it on a rustic and crunchy bread, or you can come and dip in all the gourmet dips that come to mind when faced with such a delicacy.
Les Petits Pots de Nico from Maison Bigand
Simple recipes born from encounters or travels, carefully chosen ingredients, prepared by hand in the Tarn, the Petits Pots la Maison Bigand are rich in flavour and originality.
Spreadable, sauces or dips, their uses are limited only by your imagination.
Made only from vegetable ingredients, most of which come from organic farming or picked in the countryside by enthusiasts, these sauces can be spread on toast or used to season your grilled meat and fish.
Artichokes (70%), almond milk, rapeseed oil, olive oil, gray salt, winter truffle bits, pink garlic, yellow lemon, wild pear
With this product, we recommend :
Customers who bought this product also bought :