5 Vegetable Aiolis discovery pack
Discover all the 100% plant-based aïolis from Maison Bigand
This product is coming back soon!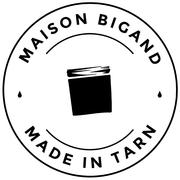 Maison Bigand
Made without eggs, this vegetable aioli is an emulsion of almond milk. They accompany joyfully all your aperitifs and dishes.
In this discovery batch, you will find :
1 jar of natural vegetal aioli
1 jar of vegetal garlic with fennel seeds
1 jar of vegetal garlic with green basil
1 jar of vegetarian garlic garlic aioli
1 jar of vegetarian garlic with capers and tarragon
The "vegetal" aïolis from Maison Bigand
Simple recipes born from encounters or travels, carefully chosen ingredients, prepared by hand in the Tarn, the aïlos from Maison Bigand are rich in flavour and originality.
Made only from vegetable ingredients, most of which are organic or picked in the wild by enthusiasts, these aïolis are made from almond milk emulsion. The result is a splendid assortment of light, particularly tasty sauces.
With this product, we recommend :
Customers who bought this product also bought :