Farmer's eggs from Lozere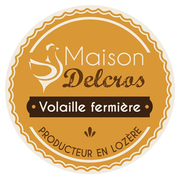 Maison Delcros
The red hens at Maison Delcros are reared outdoors and fed on grain produced on the farm. There is no question of factory farming with them, the well-being of the hens remains the main concern, and they give it back to the breeder with eggs with a well-coloured yolk, full of flavour.
Eggs of mixed size, all with a unit weight of more than 53g.
How does Chronofresh delivery work?
The delivery is done with Chronofresh, a service created by Chronopost for the fast delivery of fresh products with temperature monitoring throughout the journey.
The next order will be dispatched on Wednesday 25 March and delivered to your home on Thursday 26 March.
If you are absent on the day of delivery of your meat package, a notice will be left in your mailbox inviting you to contact customer service to reschedule a new delivery. The package will then be delivered to you in person.
The House of Delcros, poultry producers for 3 generations
One of the watchwords of the Delcros house is the well-being of its poultry, guaranteeing tender and tasty meat. The poultry are raised in the open air, on the foothills of the Margeride, in small wooded parks.
The rearing period is longer than in traditional farms, to give the poultry time to develop and to offer a meat that holds well when cooked, rich in flavour. You will see the difference in your plates and in your mouth!
You can't do more transparent and traceable than this poultry! They are fed with the farm's own cereals. The slaughtering, preparation and packaging of the chickens is done on the farm.
Made by Romane Meisso - www.romanemeisso.com
Chicken eggs from Lozère Origin : Lozere - France
With this product, we recommend :
Customers who bought this product also bought :