Discovery pack of Alain Milliat organic lemonades
Three lemonades for an exploration of the subtle and balanced alliances offered by Alain Milliat.
This product is coming back soon!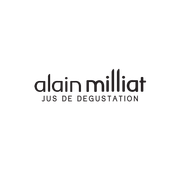 Alain Milliat
Discover the marriages between lemon and other fruits that Alain Milliat offers us in these surprising organic lemonades!
This discovery pack contains :
one 33cl bottle of lemon-ginger lemonade
one 33cl bottle of lemon-litchi lemonade
one 33cl bottle of lemon-passion lemonade
With no added sugars, extracts or flavours, this lemonade goes perfectly with raw vegetables or fish. It can be enjoyed at breakfast, brunch, tea time or as an aperitif cocktail.
Best served at 8°C in a stemmed glass.
Alain Milliat's lemonades
Alain Milliat has created balanced lemonade recipes, with character, but without added sugars.
They are made with fresh raw materials, in the Drôme region, as close as possible to the fruit.
LEMON-GINGER LEMONADE : Water, lemon juice* (15%), lychee puree*, mango puree*, lemon pulp* (5%), ginger juice* (5%) LEMON-PASSION LEMONADE : Water, passion fruit pulp* (11%), lychee puree*, lemon pulp* (5%), yellow lemon juice* (4%), timur berry* infusion (3%): water, timur berry* LEMON-LITCHI LEMONADE : Water, yellow lemon juice* (7%), lychee puree* (18%), lemon pulp* (5%), infusion of pink berry* (4%): water, pink berry* *Ingredients from organic farming
With this product, we recommend :
Customers who bought this product also bought :