Free range chicken legs of Lozère
Chicken thighs raised outdoors to be baked, pan-fried or barbecued, plain or marinated!
Preorder - Shipment on november the 5th, delivered on november the 6th
Home or office delivery only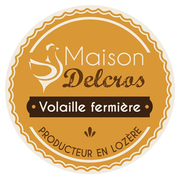 Maison Delcros
To guarantee its freshness, this product is to pre-order. If you order other items, they will all be sent at the same time as the fresh meat.
You will find in the delicacy and taste of these thighs all the happy days that the poultry will have spent frolicking in the grassy and wooded parks of the Maison Delcros.
Maison Delcros, poultry producers for 3 generations
One of the watchwords of the Delcros house is the well-being of its poultry, guaranteeing tender and tasty meat. The poultry are raised in the open air, on the foothills of the Margeride, in small wooded parks.
The rearing period is longer than in traditional farms, to give the poultry time to develop and to offer a meat that holds well when cooked, rich in flavour. You will see the difference in your plates and in your mouth!
You can't do more transparent and traceable than this poultry! They are fed with the farm's own cereals. The slaughtering, preparation and packaging of the chickens is done on the farm.
Made by Romane Meisso - www.romanemeisso.com
Chicken from Lozère (Legs) Net Weight about 650g each Origin : Lozere - France
With this product, we recommend :
Customers who bought this product also bought :