Whole free range chicken of Lozère
A whole chicken, ready to go in the kitchen!
Preorder - Shipment on june 3rd, delivered on the 4th
Home or office delivery only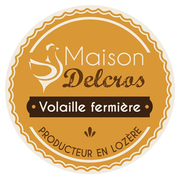 Maison Delcros
In order to guarantee optimal freshness, this article is pre-ordered. Order until Monday 23 March 9.00am for dispatch on March 25th in Chronofresh and reception at your home on Thursday March 26th. If you order other articles, they will all be delivered at the same time as the fresh meat.
Favourite dish of many homes, easy to eat and digest. Everybody loves chicken!
And we'll love it even more when you've tasted the chickens from Maison Delcros, a farm that raises, slaughters and prepares its chickens so that you can feast on fresh poultry, produced using sustainable agriculture! A very good cooking time and a delightful tasting experience make this whole chicken the assurance of a successful meal!
How does Chronofresh delivery work?
The delivery is done with Chronofresh, a service created by Chronopost for the fast delivery of fresh products with temperature monitoring throughout the journey.
The next order will be dispatched on Wednesday 25 March and delivered to your home on Thursday 26 March.
If you are absent on the day of delivery of your meat package, a notice will be left in your mailbox inviting you to contact customer service to reschedule a new delivery. The package will then be delivered to you in person.
The House of Delcros, poultry producers for 3 generations
One of the watchwords of the Delcros house is the well-being of its poultry, guaranteeing tender and tasty meat. The poultry are raised in the open air, on the foothills of the Margeride, in small wooded parks.
The rearing period is longer than in traditional farms, to give the poultry time to develop and to offer a meat that holds well when cooked, rich in flavour. You will see the difference in your plates and in your mouth!
You can't do more transparent and traceable than this poultry! They are fed with the farm's own cereals. The slaughtering, preparation and packaging of the chickens is done on the farm.
Whole Chicken Net Weight 1,8 to 2,2 kg Origin : Lozere - France
With this product, we recommend :
Customers who bought this product also bought :