Massif Central lamb rib chops
This rib fillet is a tender piece that offers a very different flavor to lamb. Not to be missed!
Preorder - Shipment on december the 10th, delivered on december the 11th
Home or office delivery only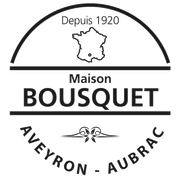 Maison Bousquet
Here we offer you a vacuum pouch containing two rib chops of 200g each.
The tenderloin ribs are a sleeveless piece, on which the nut is extended by a strip of interleaved flesh rolled up on itself, which gives it a mild taste and superior nutritional qualities.
The best way to cook these ribs is to grill them at a brisk heat, to sear the meat well and preserve its juices. Salt when serving. Nothing could be easier!
A convenient vacuum packaging
As this meat is vacuum-packed, it is convenient to handle and store in the refrigerator or freezer.
You have 12 days to eat it fresh. This packaging allows you to keep the meat fresh for 3 times longer than a conventional food wrapping.
Remember to take your meat out of the fridge and vacuum-packed a few minutes before cooking it, to give it time to return to room temperature, relax and let the aromas come out.
Otherwise, you can store the meat in the freezer for 8 to 12 months. This way, you can enjoy it whenever you like.
The Massif Central breed of lamb meat
The lamb meats we offer here are 100% Massif Central origin. The Bousquet house selects butcher's breed animals, for a colourful and melting local meat, as well as a delicacy that gives it an assertive taste.
These meat breeds are bred in extensive systems, based on grazing in natural meadows with varied flora. The animal grows and develops slowly, offering tender and tasty meat.
How does Chronofresh delivery work?
Delivery is made with Chronofresh, a service created by Chronopost for the rapid delivery of fresh products with temperature monitoring throughout the journey.
The next order will be dispatched on Wednesday 25 March and delivered to your home on Thursday 26 March.
If you are absent on the day of delivery of your meat package, a notice will be left in your mailbox inviting you to contact customer service to reschedule a new delivery. The package will then be delivered to you in person.
La Maison Bousquet Viande
The Maison Bousquet Viande is based in Rodez, in the Aveyron region, at the confluence of the Ségala, Rouergue and Aubrac, territories in the heart of the Massif Central renowned for the quality of their meats. Specialising in fresh meat and traditional charcuterie, it guarantees you the best quality products thanks to its know-how, traceability and the quality of the animals it selects for you.
Meat breed of Lamb Origin Massif Central (Aveyron, Lot, Lozère, Tarn) - France
With this product, we recommend :
Customers who bought this product also bought :