Felt basket and sachet of eggs cereal with dark and milk chocolates
Get ready for a joyful egg hunt, with this large bag of gourmet eggs with milk and dark cereal chocolates, and their decorated felt basket (2 models to choose from)
This product is coming back soon!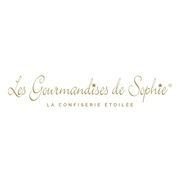 Les Gourmandises de Sophie
How can we better combine useful and pleasure?
With this original creation, you will have a multitude of eggs of all colours to hide in the garden, and to taste with greediness afterwards. Crunchy because of the cereal they contain in the heart, these milk and dark chocolate eggs will make youngs and olds ones alike melt with pleasure!
No need to bust your head to find baskets! With a colour and pattern to choose from between the green or yellow basket, children will be ready for a mischievous Easter egg hunt! Durable and sturdy, thanks to the felt they're made of, they can be used all year round to collect real eggs from the henhouse, or even put away toys, pencils and other treasures collected along the way.
Les Gourmandises de Sophie is a confectionery based in Hem (59), in the Hauts de France. They produce a variety of sweets, marshmallows and lollipops, most often offered in generous candy boxes or jars.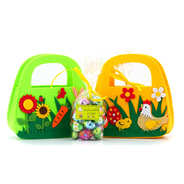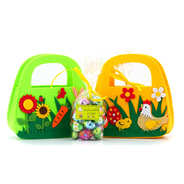 With this product, we recommend :
Customers who bought this product also bought :