French Epiphany Galette with Frangipane
Sales completed. Appointment beginning of January 2021 for new orders.
This product is coming back soon!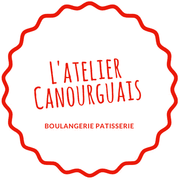 L'Atelier Canourguais
Pre-ordered to guarantee optimal freshness. Shipments take place on Tuesdays and Thursdays, every week. Be careful if you order other products, they will all be shipped at the same time as your galette. Shipment to France only.
Tradition: The epiphany is an opportunity to gather with family or friends around a galette des rois. Tradition has it that when the youngest of the guests hides under the table when the cake is cut. Once the portions are divided, he is asked to allocate them, blindly, to each of the guests. The part containing the bean allows its owner to be called king or queen. The crown is given to him, and he must at the same time designate a queen or king to accompany him.
Tasting: The "galette des rois" of the Atelier Canourguais is delicious. A fine and crispy puff pastry made of pure butter, generously topped with frangipane. The frangipane is a mixture of almond cream and custard.
This cake is rich in almonds, as it is made from 75% almond cream (of which 25% is whole almond) and 25% pastry cream.
To be eaten at room temperature or slightly warmed in the oven, there are two schools, the choice is yours!
Each cake is delivered with its bean and crown.
This year, the porcelain beans are on the theme of pastry with 12 beans representing a cake for each month of the year.
Note: The patties are prepared just before shipping to ensure maximum freshness. The cakes are shipped to metropolitan France. They must be consumed quickly after receipt to maintain optimal quality.
About the Atelier Canourguais : Located in the heart of the village of La Canourgue, the two young bakers and pastry chefs Bryan and Laurine offer in their workshop a whole range of home-made breads, pastries and viennoiseries made in the respect of tradition by privileging quality raw materials.
Pure butter puff pastry, French tradition flour, butter, almonds, milk, sugar, egg, salt.