A delicious and creamy tomatoe jam made with old varieties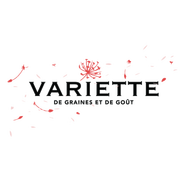 Variette
 This jam has a good taste of sweet fresh tomato. Made from organic red tomatoes, old variety, and unrefined fair trade cane sugar, it mixes delicacy and nutritional balance. The varieties used here are the Andean Horned, the Rose of Bern and the Heart of Beef. The tomatoes used for this jam are grown in organic farming and in France. The manufacturing is then artisanal with the use of fair trade, unrefined cane sugar and natural gelling agents such as agar agar or rhizome starch.
Slowly cooked in the cooperative workshop in the heart of the South West, it will charm you with its smooth texture, without lumps.
You can use it as a usual jam, on a buttered toast, with cheese. Ideal for breakfast or dessert.
Example of use - Cottage cheese and old tomato jam
Ideal for breakfast, this tomato jam will bring a breath of acidic freshness to your bowl of cottage cheese.
Fill a bowl with cottage cheese and add variette jam as well as pumpkin seeds, sesame seeds or granola.
If you wish, you can add seasonal fruit.
Variette's canned vegetables and fruits
The Variette company offers a range of fine preserves, made from vegetables and fruit of old varieties, grown in organic farming. The other ingredients used, such as sugar, are 100% natural.
The unique taste of its products is linked to the old varieties, selected precisely for their flavour. The living soil, the cultivation practice and the place of cultivation bring the final touch to the intense flavour of the fruits and vegetables. With Variette, there is no question of betting on anything other than organoleptic quality (taste, smell, etc.), even if it means overlooking the ease of grading, preservation and aesthetics.
The old varieties, whether peasant or so-called population varieties, are the result of natural selection and the work of seed artisans. Adapted to climates, soils and farming practices, they are pollinated in a free and open manner by bees and insects, and crossbreed freely and naturally. This unique biodiversity results in fruits and vegetables rich in taste and nutrients. They are all produced in France, particularly in the South-West and primarily in the Gers.
Old variety red tomatoes (blend of red varieties)*, Unrefined fair trade cane sugar*, Lemon juice*, Arrow root*, Agar Agar*. Prepared with 45g of fruit per 100g
| Average nutrition facts | For 100g | |
| --- | --- | --- |
| Energy | 1085 / 4542.68 | kcal / kJ |
| Total fat | 0.2 | g |
|   Saturated fat | 0.1 | g |
| Carbohydrate | 63 | g |
|   Sugar | 61 | g |
| Proteins | 0.5 | g |
| Salt | 0 | g |
With this product, we recommend :
Customers who bought this product also bought :