Margeride's Artisou - Farmhouse Cheese with Raw Milk
A local cheese straight from Cantal
This product is coming back soon!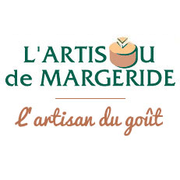 Artisou de Margeride
A typical product: Artisou de Margeride is a traditional soft mountain cheese from the Tomme family.  It owes its name to the fact that it is matured in natural cellars where the artisous (also known as artisons), small microscopic beasts of the mite family, will colonise its rind and give it a nutty, tangy taste and give it all its typicity. 
After 2 months of good care, it is brushed, labelled and wrapped in plastic film: an essential solution to keep its suppleness and flavour.
For those who prefer an older cheese, it is advisable to leave it for a few days at room temperature under a cheese bell.
Geographical origin: this cheese made from raw cow's milk is produced by a group of about twenty producers based in the Cantal at Vieillespesse (15500) in the Montagne area.  The milk comes from various farms located in Margeride. 
About the Bleu Blanc Coeur label: the Bleu Blanc Coeur association, which today brings together more than 5,000 breeders, has become the first recognised approach of nutritional and environmental interest. It is based on a diversified way of feeding the animals with seeds selected for their nutritional interest, such as their Omega 3 content. This richness is found in the products from these farms and therefore ensures good nutrition for mankind. Omega 3 would indeed be good for the cardiovascular system and the cholesterol level. Moreover, the diversification of the cultures is favourable to the passage in modes of biological production.
With this product, we recommend :
Customers who bought this product also bought :