Real Andouille of Vire
Andouille Asselot
Smoked on beech wood for an unforgettable taste…
This product is coming back soon!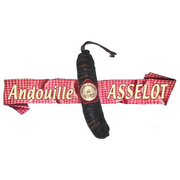 Andouille Asselot
The real andouille of Vire, a Norman delicacy, par excellence.
Native to Vire, in Basse-Normandie, the Andouille owes its reputation to its handmade production, based on 18th century techniques, which are protected by the Andouille of Vire rights association. Production is subject to strict methodology, which is adhered to by all artisans, although each artisan has his own little secret method to add, ensuring the individuality of their produce.
Asselot Lucien & Sons was established in 1981. It's a family business specialising in the handmade Andouille of Vire. This production respects strict rules, such as smoking the sausage above a beech wood fire. Adhering to these rules allows the Asselot company to produce a very high-quality product, perfect as an aperitif, or as a starter: cold, in slices on lightly buttered bread, or warm with potatoes.
Authentic Andouille of Vire is made solely with belly of pork, washed, cut into strips, salted, then pickled in brine for several days. The strips, or hanks, are then tied together with a thin cord fixed at one end, before being covered with a skin and left to dry.
The Andouille has the shape of an irregular cylinder 30 cm, rounded at both ends, one of them tied with a thin cord. Its black colour is due to the smoke, which also gives the Andouille its characteristic and much sought after flavour.
To protect and promote the authentic Andouille of Vire, a guild has been created and a legal mention is fixed to the products. On All Saints' Day, about fifty exhibitors attend an annual fair to celebrate the Andouille of Vire.
Pork tripe and belly, salt, pepper, sugar.
With this product, we recommend :
Customers who bought this product also bought :