Inland Ice - Still Water from Iceberg from Greenland
An amazing still water from Iceberg, one of the purest water on Earth
This product is coming back soon!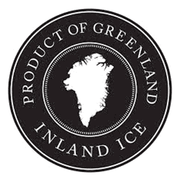 Inland Ice
This water in extremely pure, due to the fact that it escapes any contaminations and polluants over the years. 
It is extracted from the ice sheet in Greenland, encapsulated for more than 100.000 years. 
This purety gives to the water such a smooth mouthfeel but also prevents it for bonding with any ingredients it is mixed with, which is a very interesting caracteristic for every Chef.
| Average nutrition facts | For 100ml | |
| --- | --- | --- |
| Energy | 0 / 0 | kcal / kJ |
| Total fat | 0 | g |
|   Saturated fat | 0 | g |
| Carbohydrate | 0 | g |
|   Sugar | 0 | g |
| Proteins | 0 | g |
| Salt | 0 | g |
| Fiber | 0 | g |
| Calcium | 5.6 | mg |
| Magnesium | 0.5 | mg |
| Copper | 0 | mg |
| Sulfates | 2.6 | mg |
| Chlorides | 1.1 | mg |
| Nitrates | 0.5 | mg |
| Sodium | 0.5 | mg |
With this product, we recommend :
Customers who bought this product also bought :