Voss Sparkling Water from Norway
This ultra pure and very lightly mineralized water will delight you with its lightness and its fine bubbles. Its unique bottle pays tribute to its unique purity in the world.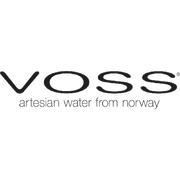 Voss Production
The artesian water of Voss is one of the purest waters of the world, gushing out of a virgin aquiferous layer protected for centuries under ice and rocks in the intact desert of Central Norway. The ancient filtering process makes it a sodium and mineral-free water, giving it an inimitable light flavour. The cylindrical bottle of Voss has been drawn by one of the designers for Calvin Klein and Ralph Lauren. Voss water is served in the greatest places in the world, such as the Trafalgar Hotel in London, or the Ritz-Carlton Hotel in Manhattan.
sulfate 3,1 mg/L ; Calcium 0,8 mg/L ; Magnesium 0,6 mg/L ; Sodium 17 mg/L ; Potassium 0 mg/L ; Chloride 9 mg/L.
With this product, we recommend :
Customers who bought this product also bought :