French Delicatessen Advent Calendar
The 24 windows of this colourful cube will offer you every Advent day a savoury, sweet or spicy gourmet stopover in the many terroirs of our magnificent France.
This product is coming back soon!
You like this product ? You may like this one too...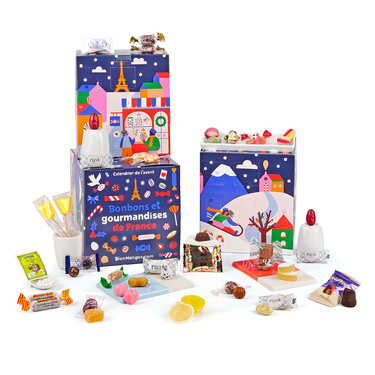 French Sweet Delights Advent Calendar
310g calendar
Price : 19.90 €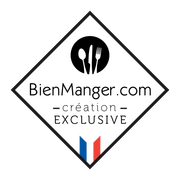 BienManger paniers garnis
If you want to offer an original and original Advent calendar, this cube of French terroirs is the perfect choice!
Every day it holds a gastronomic surprise that is very different from the day before and the day after. Covering a vast panorama of France and its gustatory specialities, it pays homage to its terroirs, just like the faces of the cube illustrated by the artist Sophie Tiers (Les Ateliers Sauvages).
You will discover a diversity of flavours and origins selected by the gourmet teams at BienManger.com, from among the many talented French artisans with whom we have been working for many years :
Two small plain shortbreads from La Sablésienne, a speciality of the Sarthe region.
A jar of delicious courgette, goat's cheese and honey spread, carefully prepared by the Ateliers Bernard Marot (Loire-Atlantique).
Two caramels with salted butter from the Maison d'Armorine, an emblematic delicacy of Brittany.
Two white nougats with Alsatian spices from Maison Silvain, a Provencal nougat maker.
A berlingot of organic Provencal herbs from Max Daumin.
Two speculoos, cinnamon biscuits that can be found in all the good cupboards in the north of France and Belgium, made by the chocolate and biscuit maker Monbana.
A jar of quail pâté with Muscat de Beaumes de Venise, prepared with care and passion by Maison Valette (Lot)
A jar of kiss jam (clementine and peach), made with tenderness by the House of Francis Miot (Pyrénées-Atlantiques)
A jar of IGP Burgundy mustard, from the famous Maison Fallot (Beaune)
A jar of Mad Salt, spicy salt, a speciality of the Ile de Ré, prepared by Comptoir Colonial
A sachet of 4 Star Milk, the essential chocolate powder for Monbana's milk drink, known by all the great gourmets.
A mignonette of olive oil made by the house A l'Olivier
One small calisson with lavender from Aix, from Roy René, all the delights of southern confectionery in one bite!
A jar of Salidou, a salted butter caramel cream to spread, a Breton speciality prepared by the Maison d'Armorine.
A mignonette of fresh raspberry pulp vinegar, a harmonious blend of acidity and sweetness made by Maison A l'Olivier.
Two marshmallow hearts coated with chocolate, a speciality straight from the Hauts de France fairgrounds, prepared with tenderness by the Atelier des Lys.
A jar of Breton curry from the Comptoir Colonial, ready to bring to your fish dishes all the power of the classic spices of exotic cuisine and the iodine of the seaweed of our Breton coasts.
A jar of langoustine with foie gras, one of the most successful earth-sea mixes by the Ateliers Bernard Marot with these two emblematic products of French gastronomy.
A sparkling sugar truffle from the chocolate maker Mathez (Maine et Loire), reserving a firework in the mouth!
A jar of Dijon blackcurrant mustard from Maison Fallot (Beaune), which, with its beautiful balance between acidity and spiciness, proves the merit of its national renown!
A jar of rose petal confit from Maison Favols (Lot), like a bouquet of flavours and aromas that will enchant your tea time.
A jar of Lozère honey selected from beekeepers by the Maison Sauveterre (Lozère)
Two real papillotes from Voisin, the emblematic confectionery of Lyon.
And to kick off the festivities, a block of IGP Sud-Ouest duck foie gras prepared by Maison Valette.
A very nice gift that will help gourmets and gourmands to wait until the festivities by whetting their taste buds!
With this product, we recommend :
French Delicatessen Advent Calendar is also available in
Little gifts
.
Customers who bought this product also bought :