Mint Cream Liqueur - La Mentheuse 15%
What to drink after eating well? Opt for a Mentheuse! The new generation of mint cream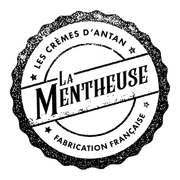 La Mentheuse
La Mentheuse is an innovative mint cream that revisits the classic recipe according to today's tastes and consumption patterns. It comes to us from the South of France, from the Occitan region, where it is distilled.
Its transparent colour shows the absence of colouring agents and is different from the famous green liqueur. It naturally has a great aromatic power over peppermint and does not contain any additives.
Lighter in alcohol with only 15% vol. it gives a sensation of soft freshness. 
Another strong point, La Mentheuse is not very sweet (100g of sugar per litre) compared to other creams and liqueurs of this kind (around 250g/L). 
When and how to taste it?
To be drunk on ice and/or with sparkling water. It is perfectly adapted to be enjoyed as a digestive, after a good meal, but can also be served as an aperitif in the form of cocktails. 
It is advisable to drink it chilled whatever happens, but do not put it in the freezer.
Tasting notes
Robe: almost translucent, frosted reflections
Nose: fresh with green mint, quite marked
Palate: a greedy attack on the sugar then fresh and balanced with a slightly peppery finish.
With this product, we recommend :
Customers who bought this product also bought :