Organic Fresh Birch Sap from the Alps and Jura
Do a birch sap cure with this freshly extracted sap from the Alps. A premium birch water labeled organic by Ecocert came directly from the Alps and Jura.
This product is coming back soon!
You like this product ? You may like this one too...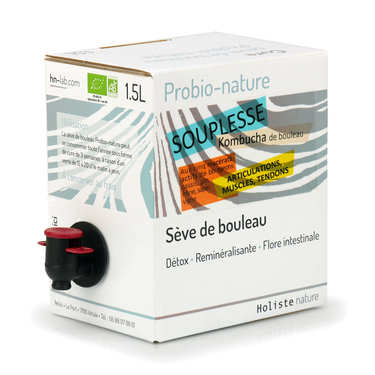 Organic Kombucha from Birch - Suppleness
HN-Lab
1.5L
Price : 24.95 €
Price per liter: 16.63 €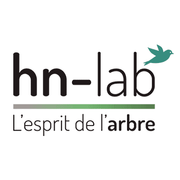 HN-Lab
How to use birch sap?
birch water is consumed as a treatment during 3 weeks up to 1 liter per week per person. It is recommended to drink half a pure glass every morning fasting (about 15cl).
There are other possible uses of birch sap. Some use it in some beauty recipes and other cooking.
Harvesting
The harvest is done on trees located high in the Alps and the Jura, located between 400 and 1600 meters. It begins in late February for forests at low altitude, when the snow begins to melt and the sap begins to flow in the trunks of trees. The harvest lasts until the end of April for the higher areas.
To collect the sap, a small 6mm diameter hole is drilled on mature trees. The precious liquid is then collected in the natural rhythm of the tree. Approximately 3 weeks later, at the end of the harvest, the hole is punched by means of a wooden dowel and the clay paste designed to protect the shaft against external pathogens.
Hn-Lab, a family history
After you have bought a mountain chalet in Savoie, the Hn-Lab designers have discovered the exceptional properties of fresh birch sap. With several tests, they developed a process to extract the sap at the right time, in the best conditions and ship quickly. Birch sap Hn-Lab itself apart from other saps often pasteurized, with conservative and having lost their virtues.
A quick shipping to guarantee absolute freshness
Shipments Wednesdays only for optimum freshness .
Once harvested sap, it is shipped the same day after being vacuum packed. It starts from our warehouse the next day only to harvest. She arrives home and fresh and pure, preservatives and non-pasteurized.
Birch sap is evolving over time and it will trouble more or less which does not affect the quality of your water. This is a living product . It is imperative to keep the refrigerator away from heat and light once received.
What are the fresh birch sap properties?
The birch sap would possess interesting properties for all: women, men, children, elderly.
It includes:
flavonoids ( antioxidants )
17 amino acids including glutamic acid that gives life and tones the body
betulin , which enhances the action of insulin
chlorogenic acid (against overweight).
cytosines and sugars in the form of fructose from 0.2 to 0.5%.
mucilage
The virtues:
Detox: This treatment allows to remove accumulated toxins with our excretory organs. Our kidneys, lungs, liver, skin and intestines
The birch sap is source of minerals, plant hormones and amino acids many, it allows you to replenish energy .
The cure for birch sap is depurative, draining and diuretic .
Antioxidant : it would delay the effects of aging, strengthen blood vessels, would lower blood pressure and decrease water retention.
With this product, we recommend :
Customers who bought this product also bought :