Pink Himalayan salt and organic 5 season peppers and their mills
A beautiful duet presented in an elegant box for fine gifts.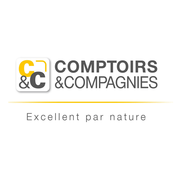 Pink Himalayan salt
Comptoirs et Compagnies
Origins : This pink Himalayan salt is 200 million years old. The Himalayas are the result of the collision of the Indo-Australian and Eurasian plates, which also caused the disappearance of the former Thetys ocean. As its water slowly evaporated, the salt crystals were deposited on the slopes of the emerging mountains. This pink salt is rich in minerals and trace elements (potassium, sodium, magnesium, calcium,iron, copper ...) and is an extremely pure form of "fossil" salt. Himalayan tribes used to carry it from the Himalayan salt mines down to the valleys on the backs of their yaks.
Organic 5 season peppers
The long grain pepper is perfectly blended with other 4 peppers: fruity green pepper; spicy white pepper; aromatic black pepper and softly sweet pink peppercorn.
The mill
The pink salt and organic 5 season peppers are both in a beautiful crystal polycarbonate mill, to allow you to grind pink salt and pepper as you require, and to preserve their flavours. Moreover, on your table, these two beautiful mills are bound to make a statement.
Serving
The pink Himalayan salt and organic 5 season peppers are perfect to accompany meat, fish and vegetable dishes.
Salt pink, piper longum, green pepper, white pepper, black pepper and pink cove. Pepper is from organic farming.
With this product, we recommend :
Customers who bought this product also bought :