8° Knock Mealdown Irish Stout 5%
This product is coming back soon!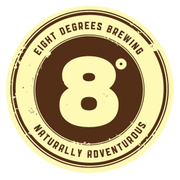 Eight Degrees Brewing
Style: Dry Irish stout
Malt: Irish pale malt, dark crystal, roasted barley, chocolate malt, flaked barley.
Hops: Fuggles, Admiral.
Strength: 5% ABV
Bitterness: 41 IBUs
Tasting notes
Colour/appearance: pours a jet black with a tan head.
Aroma: a malt-forward, espresso and molasses nose.
Flavour: roasted mocha with smooth mouthfeel and a solid bitter backbone.
Aftertaste: dry milk chocolate in the finish.
Water, barley malt, wheat, hops, yeast. Alcohol: 5% vol.
With this product, we recommend :
Customers who bought this product also bought :