Taittinger Brut Prestige champagne
You like this product ? You may like this one too...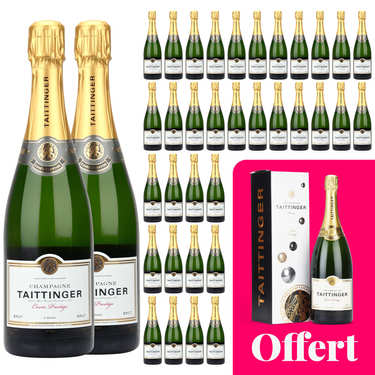 The famous Brut Prestige of the Champagne house Taittinger dresses of fine bubbles and reveals delicate aromas of fruit and flowers.
Champagne Taittinger Brut Prestige AOC Champagne is an elegant champagne with a sparkling allure, and a soft, golden colour. It has fine bubbles and a discreet and long lasting mousse, an expressive nose, with notes of fruit and baking bread, and hints of peach, white flowers and vanilla.
Produced using 40% Chardonnay grapes and 60% Pinot grapes, this is a special edition with a particularly delightful and well balanced nose. With its finesse, lively flavour and sparkling bubbles, it is the perfect champagne for drinking at any time, and should be served chilled, at around 8°C.
Composition :
Alcohol: 12 % vol. Contains sulfites.
Customers who bought this product also bought :
Reviews about : Taittinger Brut Prestige champagne
There is no reviews about the product yet Taittinger Brut Prestige champagne
Be the first to leave a review
Leave a review
Please describe your experience with this product : taste, texture, how you used it and maybe your favorite recipe or advice.
You must login or register to leave your opinion.