Caviar box - molecular cookery for edible pearls
Experiment! Make your own edible pearls!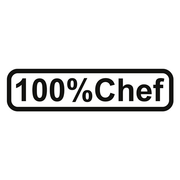 Tools concept
100 % Chef
This 'caviar' box allows you to create 96 pearls at a time.
The science of molecular cookery to make 'pearls'
How to prepare the alginate solution: carefully sprinkle 2.5g of the alginate powder into 500ml of liquid of your choice (fruit juice, stock etc…). Using an electric mixer, mix until the powder is completely dissolved. Leave to rest for 30 to 45 minutes in order to avoid any lumps forming. We recommend that you add the alginate to 2/3 or the liquid to be used, and then add the rest of the liquid, and that you avoid beating too much air into the mixture.
To make the calcium chlorure mixture: dissolve 2.5g in 500g of water. The quantities used depend upon the recipe.
Important: Ensure that you use a set of scales accurate to a 10th of a gram.
Spherification: to form spheres or 'caviar', it is necessary to add, drop by drop, tiny quantities of the liquid-alginate mixture to the calcium chlorure mixture. After 30 seconds, lift out the pearls and rince them in a bowl of iced water. We recommend that you test the solution by injecting a few drops of the liquid-alginate mixture into the chlorure mix , using a syringe.
Using the caviar box: pour the solution to be transformed into pearls into the lid of the caviar box. Insert the part containing the tubes and fill the syringe by 5ml more in order to obtain the pressure necessary to fill all 96 tubes.
Turn the caviar box over on top of the chlorure solution and slowly inject the rest of the liquid using the syringe, in order that all the solution in the 96 tubes is released. Take care not to tilt the caviar box. Lift out the pearls and rinse them in a bowl of iced water. Serve immediately. Remember that the longer the pearls stay in the chlorure mixture, the more gellified they will become.
With this product, we recommend :
Customers who bought this product also bought :