Glass Jar of French Sea Salt
The true salt flower of Camargue in France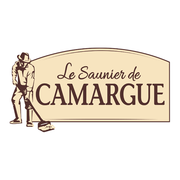 Les Saunier de Camargue
Salt flower:
Its thin and crispy texture provides great flavours to all your dishes. You can use it at the end of cooking time or directly in the plate. It is perfect on BBQ meats, fishes, and fresh salads.
Soft and gentle the salt flower from Camargue has a great aromatic power and offers surprising tastes.
The Camargue, a region made of salt:
The brand "Le Saunier de Camargue" picks its salt near the charming walled city of Aigues-Mortes, which is into a Nature reserve. From the Antiquity, salt has been cropped in a natural way. In this place, wildlife, flora and salt harmoniously live together.
The saunier's work:
From the Antiquity, the sauniers follow the nature's work and water waves to create the "Saunier of Camargue", a salt which is naturally white and very close to its first shape. This authentic kind of salt is full of benefits.
Recipe idea: Filet mignon in herbs and in salt flower from Camargue
Cooking 30 minutes:
Preheated oven thermostat 6-7 (200°C)
Ingredients:
1 pork filet mignon
300g stale bread pieces
2 garlic peeled cloves
125g of reggiano Parmesan cheese
1 bunch of parsley
1 bunch of tarragon
1 bunch of chive
2 big spoons of mustard
Salt flower from Camargue
Olive oil
Preparation
Mix with a blender the bread, the garlic, the Parmesan cheese and herbs
Spread this mixture over a sheet of cling film
Whitewash of mustard the filet mignon and put it down in the middle of your sheet
Close the food sheet on the filet mignon
Place it in the freezer for 30 minutes
Put your preparation in the oven but don't forget to remove the cling film
With this product, we recommend :
Customers who bought this product also bought :