Violet Mustard from Brive
The famous violet mustard with grape must from Denoix! A mustard sweetened by the fruity and sour taste of grapefruits, and with such an original purple colour.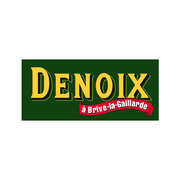 Maison Denoix
In the 14th century, one of the Limousin popes, Clement VI, otherwise known as the Magnificent on account of the splendour of his court at Avignon, was born at Rosiers-d'Egletons in the Corrèze region of France. Remembering that this region was responsible for the production of violet mustard, he ordered that a master 'mustard-maker' travel to the papal court.
The mustard-maker chosen, Mr Javbertie, came from Turenne. He succeeded so well in his task that he was given the title of Grand Mustard-Maker to the Pope. Today, the Denoix company, keen to maintain the traditions of their region, has relaunched the famous violet mustard.
This mustard, which comes from Brive, is made with grape must, which gives it its distinguishing colour, as well as its gentle, fruity flavour. It is delicious served with meat, raw vegetables, duck fillets, or in sauces. Perfect in every dish, every day.
Grape must 29.1%, mustard seeds and teguments, wine, vinegar, water, salt, spices, sulphites.
With this product, we recommend :
Customers who bought this product also bought :