Les Folies Fromages - Blueberry with Wild Thyme
You like this product ? You may like this one too...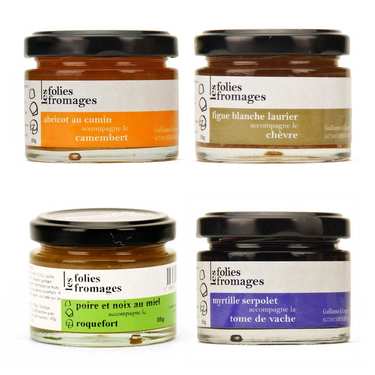 Perfect with hard cow's cheeses
Folies Fromages – Guillaume and Lesgards
Either eaten directly with cheese, on a crunchy baguette or on a fresh, hot slice of toast, the Folies Fromages of Guillaume and Lesgards are six recipes intended to add a different and original aspect to the way that you eat cheese. All six recipes are based on tradition, and rely on making the most of opposing, yet complementary flavours. Made by craftsmen in the Pyrénées.
Blueberry and wild thyme
To accompany cows' cheese
What could be more obvious than to accompany cows' cheese, made with milk from the mountains, with blueberries, which grow in the same environment ? Wild thyme brings out the sharp taste of these cheeses.
Composition :
Blueberry 46%, sugar, infusion of wild thyme, vinegar, pectin, pepper.
With this product, we recommend :
Customers who bought this product also bought :
Reviews about : Les Folies Fromages - Blueberry with Wild Thyme
There is no reviews about the product yet Les Folies Fromages - Blueberry with Wild Thyme
Be the first to leave a review
Leave a review
Please describe your experience with this product : taste, texture, how you used it and maybe your favorite recipe or advice.
You must login or register to leave your opinion.