A Specialty of Les Huiles Guénard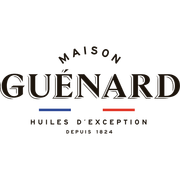 Les Huiles Guénard
The Bérinoix recipe is a secret only known by Les Huiles Guénard. You will see that there are 15% of walnut blank oil and 85% of another walnut oil that is more sophisticated.
It is a soft, fruity and less strong oil than can be the 100% blank oil. This product can be in all your dishes and especially in your salads and in your meats.
Les Huiles Guénard Recipe : Nutty sauce
Ingredients :
200g of walnut halves
3 soup spoons of single cream
4 soup spoons of Guénard walnut oil
Salt and pepper
Preparation :   
Crush very finely walnuts and put them in a very hot frying pan with the walnut oil, the single cream and the salt and pepper. Then, let cook the mixture for a few minutes until you obtained the desired texture. 
15% walnut virgin oil and 85% walnut oil
| Average nutrition facts | For 100ml | |
| --- | --- | --- |
| Energy | 900 / 3768.12 | kcal / kJ |
| Total fat | 100 | g |
|   Saturated fat | 10 | g |
| Carbohydrate | 0 | g |
|   Sugar | 0 | g |
| Proteins | 0 | g |
| Salt | 0 | g |