Organic Aloe Vera juice 5+1 free
100% Organic Aloe Vera juice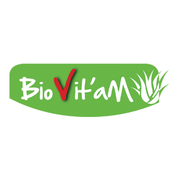 Biovitam
The quality of this juice is optimal: Only the heart of the plant is used to extract the juice and nothing else
Analyzes Aloe Vera demonstrated the exceptional richness of this plant with over 200 components including 80 nutrients, including:
Vitamins A, B1, B2, B3, B6, B9, B12
Minerals: Calcium, chlorine, copper, chromium, iron, zinc, lithium, magnesium, manganese, phosphorus
amino acids: essential 7 8, 11 of 14 secondary
enzymes: amylase, catalase, cellulase, lipase, oxidase, phosphatase and
mono and poly saccharides: cellulose, glucose, mannose
Aloe Vera is a plant of the Lily family.
The rather narrow leaves are long and serrated. From the center rises an inflorescence with numerous yellow flowers shaped tube.
After 4 to 5 years, the cactus reaches approximately one meter. We can begin to collect the leaves especially for juicing
Originally from North Africa, Aloe Vera is grown throughout the world and particularly in Spain, Mexico and the southern United States.
Aloe Vera is a plant adaptogen : it respects the internal balance and acts only when the body needs . This plant antioxidant is recommended for problems of gastrointestinal . Aloe Vera juice has a detoxifying effect on the body .
No colors or preservatives, the juice is produced in Mexico and bottled in France without intermediaries.
Use: 2 to 5 tablespoons per day with a large glass of water during meals and as part of a balanced diet (for 1 to 3 months). The gel must keep in the fridge and drink chilled and shaken.
99.5% aloe vera juice (from the fresh leaf net e), citric acid 0.5%,
With this product, we recommend :
Customers who bought this product also bought :