This juice is extracted from the fresh pulp of the leaves of aloe vera that contains a high nutrient density and soothe digestive problems.
You like this product ? You may like this one too...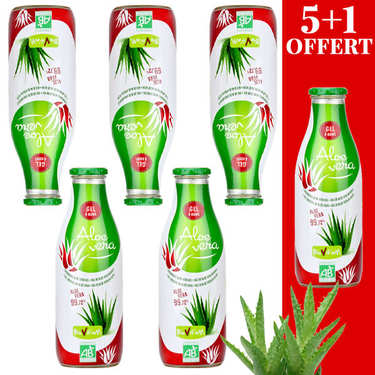 Organic aloe vera gel 5+1 free
Biovitam
5 ea 1L bottle + 1 free
Price : 67.50 €
Price per liter: 11.25 €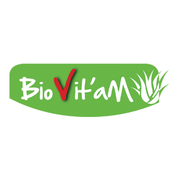 Biovitam
This pure gel and organic drink is extracted from the fresh pulp fleshy leaves and thick Aloe Vera.
Aloe Vera is a plant used and recognized for its benefits for over 5,000 years. No harmful side effects, this plant helps to regain or maintain health and wellbeing.
Aloe Vera is a very rich source that contains more than 200 items including 80 nutrients including:
Vitamins A, B1, B2, B3, B6, B9, B12
Minerals: Calcium, chlorine, copper, chromium, iron, zinc, lithium, magnesium, manganese, phosphorus
Amino acids: essential 7 8, 11 secondary 14
Enzymes: amylase, catalase, cellulase, lipase, oxidase, phosphatase and
Mono and poly saccharides: cellulose, glucose, mannose
This oral dietary supplement is of high nutritional density. Indeed, the benefits of gel drink Aloe Vera soothes, moisturizes, soothes and strengthens internal mucosal tissues, particularly in terms of: gastrointestinal tract, esophagus, stomach, intestines.
The composition of the gel or juice is identical. However the formula Aloe Vera gel is thicker, the better and longer lining mucous membranes. The gel formula is more suited to soothe and calm digestive problems such as constipation, acidity, ulcers, irritable bowel syndrome, hiatal hernia, bloating, heartburn. This gel also helps strengthen the immune system and help to revitalize the entire body. It is a great ally against stress and tiredness.
This health everyday ally is without preservatives and flash-pasteurized. It is simply extracted from the pulp.
The gel must keep in the fridge and drink chilled and shaken.
Dosage: 2 to 4 tablespoons per day, preferably fasting for 1 to 3 months
Origin: Mexico
Bottled product in France
99.72% aloe vera juice (from the fresh leaf net e), citric acid 0.25%, 0.03% xanthan gum
| Average nutrition facts | For 100ml | |
| --- | --- | --- |
| Energy | 6.8 / 28.47 | kcal / kJ |
| Total fat | 0 | g |
|   Saturated fat | 0 | g |
| Carbohydrate | 3.3 | g |
|   Sugar | 3.3 | g |
| Proteins | 0 | g |
| Salt | 0 | g |
| Fiber | 1 | g |
With this product, we recommend :
Customers who bought this product also bought :