Greek Traditionnal Greece Pasta "Kritharaki"
Traditionnal Greece Pasta "Kritharaki"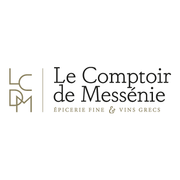 Le comptoir de Messénie
This pasta are looking like rice grains. They are made of sheep milk and fresh eggs. They offer a soft taste. The Kritharaki are part of the Greek gastronomie, and are also called "Greek rice".
You can prepare several recipes. They are perfect with cooked meat as they absorb the meat juice. You can also cook soup. Kritharakis are just delicious !
Cooking tips :
Cook this pasta with a lot of slightly salty water for a few minutes (between 4 and 6 minutes). Yet, you can also cook with sauce, in a risotto style, with a longer cooking time (around 20 minutes). Thus, they will fully absorb all the flavours. You can also cook the Kritharaki in the oven, to get caramelized pasta.
sheep's milk, wheat flour, semolina, eggs, salt.
With this product, we recommend :
Customers who bought this product also bought :